Expansion Bolt
UNC (4/1*1-3/4~1*12mm) and metric (6*40~24*360mm) and hilti (two/three/six clips)wedge anchor
Function and scope of application
At present is mainly used in high-end architectural field abroad, such as Europe, America, Middle East, Japan and South Korea and other developed countries, in 2013 to enter the domestic market. Widely used in concrete embedment relevant work. Such as: building curtain wall, interior decoration, air conditioning, lights, billboards, TV wall, bathroom, kitchen utensils and (appliances) water and electricity, monitors and other related industries and fields.

Application:
Expanding by the screw and screw expansion pipe parts, such as screw tail cone, the inner diameter of the cone is greater than the expansion pipe diameter. When tighten nut, screw, move outward by the axial movement of screw cone part, on the expansion pipe's outer surface
Bolt type composite cable bracket
Formed a lot of positive pressure, combined with the cone Angle is small, so that the wall. Such as sanfeng composite cable bracket is through the wall.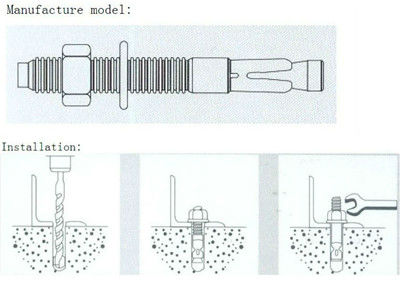 Advantages:
1.Without co-rotating
2.Efficient assembly,Low expenditure
3. Easy installation
4.load immediately
5.Anti-corrosion
Specification:
We are the major manufacturer of anchor bolts in China.
We have the most advanced equipments and instruments.
Our products have all accessories you need for the hardware construction. Our products sell well in both demestic and overseas markets.
Our products could meet all the international standards.
the product:1)high quality
2).favorable price
3).timely delivery
4).best service
material

carbon/stainless steel

color

yellow/blue white

port

shanghai

or

ningbo

payment

T/T;L/C
Installation
1.Drill a hole
2.Cleaning the hole and insert the bolt into the hole
3.Tighten the concrete anchor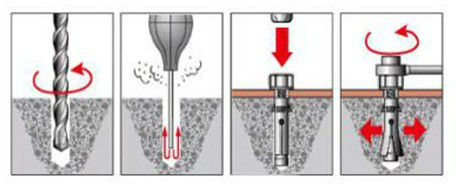 Wedge anchor
1>Concrete wedge anchors' design allows them to anchor fixtures into concrete.
2>Concrete wedge anchors work by inserting them into a hole drilled into concrete.
3>The concrete wedge anchor is then expanded, wedging itself securely in the concrete.
Size:
| | | | | | | | |
| --- | --- | --- | --- | --- | --- | --- | --- |
| Size (mm) | Weight(KG) /KPCS | Size (mm) | Weight(KG) /KPCS | Size (mm) | Weight(KG) /KPCS | Size (mm) | Weight(KG) /KPCS |
| 6*40 | 10.54 | 8*130 | 48.15 | 12*90 | 87.07 | 20*110 | 313.7 |
| 6*45 | 11.44 | 8*140 | 51.35 | 12*95 | 90.57 | 20*125 | 343 |
| 6*55 | 13.54 | 8*150 | 54.15 | 12*100 | 94.07 | 20*130 | 353 |
| 6*60 | 14.14 | 8*160 | 57.15 | 12*110 | 101.07 | 20*140 | 373 |
| 6*65 | 15.04 |   |   | 12*120 | 108.07 | 20*150 | 393 |
| 6*70 | 15.64 | 10*60 | 44.47 | 12*125 | 111.57 | 20*160 | 413 |
| 6*80 | 16.54 | 10*65 | 46.47 | 12*130 | 115.07 | 20*170 | 433 |
| 6*85 | 17.37 | 10*70 | 48.07 | 12*135 | 118.57 | 20*180 | 453 |
| 6*90 | 17.74 | 10*75 | 50.47 | 12*140 | 122.07 | 20*200 | 498 |
| 6*95 | 19.44 | 10*80 | 52.87 | 12*145 | 125.57 | 20*215 | 528 |
| 6*100 | 23.64 | 10*90 | 57.67 | 12*150 | 129.07 | 20*220 | 539 |
| 6*110 | 25.14 | 10*95 | 60.07 | 12*160 | 136.07 | 20*230 | 563 |
| 6*120 | 27.14 | 10*100 | 62.47 | 12*170 | 143.07 | 20*240 | 583 |
| 6*130 | 29.64 | 10*110 | 67.27 | 12*180 | 150.07 | 20*250 | 678 |
| 6*140 | 31.64 | 10*115 | 69.67 |   |   | 20*260 | 703 |
| 6*150 | 33.34 | 10*120 | 72.07 | 16*90 | 159.5 | 20*280 | 752 |
| 6*160 | 35.04 | 10*125 | 74.47 | 16*95 | 166 | 20*300 | 802 |
| 6*170 | 36.74 | 10*130 | 76.87 | 16*100 | 172.5 | 20*370 | 976 |
| 6*180 | 38.14 | 10*140 | 81.77 | 16*105 | 179 |   |   |
|   |   | 10*150 | 86.47 | 16*110 | 185.5 |   |   |
| 8*50 | 22.55 | 10*160 | 91.27 | 16*120 | 198.5 |   |   |
| 8*60 | 25.75 | 10*165 | 93.67 | 16*125 | 205 |   |   |
| 8*65 | 27.35 | 10*170 | 96.07 | 16*130 | 211.5 |   |   |
| 8*70 | 28.95 | 10*180 | 100.87 | 16*140 | 224.5 |   |   |
| 8*75 | 30.55 |   |   | 16*145 | 231 |   |   |
| 8*80 | 32.15 |   |   | 16*150 | 237.5 |   |   |
| 8*90 | 35.35 | 12*50 | 61.07 | 16*160 | 251 |   |   |
| 8*95 | 36.95 | 12*60 | 67.07 | 16*170 | 263.5 |   |   |
Pictures: